Waverider Communications
Wireless Communications Equipment
We deliver Worldwide.
AirMax5
108Mbps 5GHz Long Range 20km Wireless Bridge
Price: AU$350 Export, AU$385 inc. GST per unit
Delivery: $14+gst Melbourne Metro, $18+gst Australia Wide, AU$50 World Wide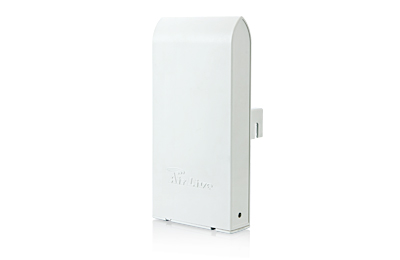 <- - - - - / Up to 20km / - - - - ->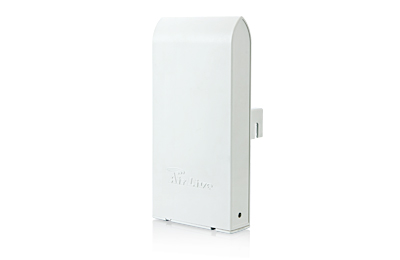 Bridge Example Application
Key Features and Product Specifications :
- 802.11a 108Mbps Wireless Outdoor CPE
- High performance 108Mbps radio to transmit over a longer distance than its competitor
- Intelligent circuit board design allows AirMax5 to perform at the greatest optimized level
- 2 integrated 14 dBi antennas provide up to 20km coverage under ideal conditions and cover all polarizations
- Field tested at 20km distance with built-in antenna under ideal conditions
- Antenna Alignment LED and Double Mounting System makes installation a breeze
- Double Memory Size allows you to do more than ever before
- Original Atheros driver based OS give you both greater stability and more innovative features
- AP, Bridge, Client, Router, WISP modes
- Bandwidth Control, Multiple SSID, Tag VLAN
- R-SMA connector for optional external antenna to achieve maximum distance
- Powered by Advanced Passive PoE.
- Size 210mmH x 100mmW x 32mmD
- INCLUDES PoE Adapter Kit with power supply and power injector!
- INCLUDES Built in 14dBi Antenna!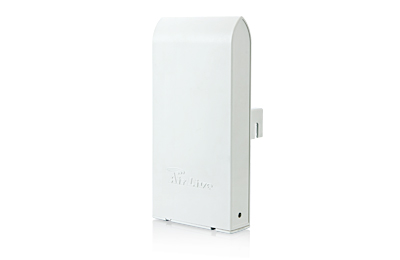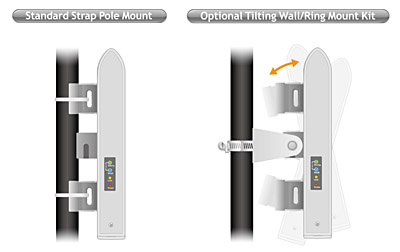 AirMax5 is our next generation 5GHz CPE built to the highest standard that make its competitor pale in comparison. It greatly surpasses the competitions in value, feature, performance, and reliability.
With the integrated directional antenna and high performance 108Mbps Atheros 11a radio, the AirMax5 can reach the distance of 20 kilometer under ideal conditions depending on terrain using the built-in antenna. If you need more or maximum distance, simply connect a hi-gain external antenna to the R-SMA port. You can choose the CPE to use Vertical, Horizontal, or external antennas from the web interface. It really is that versatile and simple.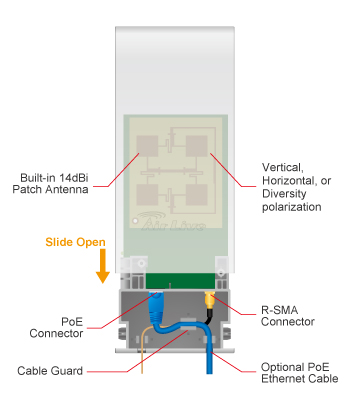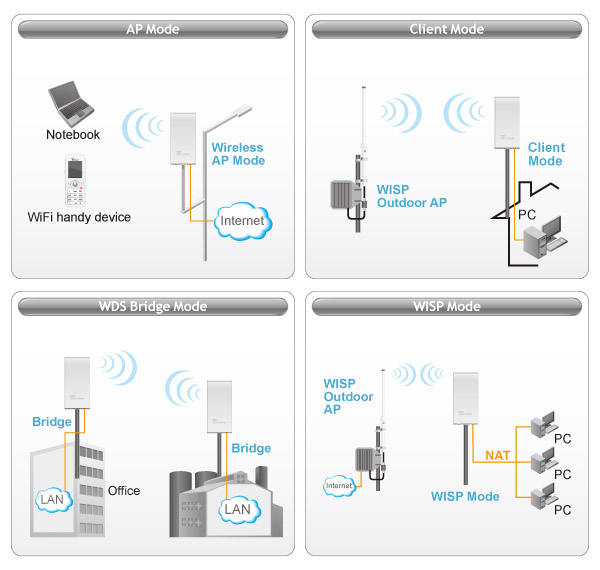 POWER - Small it may be, AirMax5 is all about power and performance. The core of AirMax5 comprises of a 23dBm 802.11a 108Mbps radio that is capable to run in both Turbo A and Super A modes. Together with two 14dBi antennas and a highly efficient firmware, AirMax5 can normally easily transmit data over a distance of 3km and beyond depending on terrain. Field tested under ideal conditions to 20km Max.

DESIGN - Using an Advanced and Intelligent circuit board design, AirMax5 is able to bring the best out of its components, allowing them to run at optimized level and reducing power loss, thus giving you unparallel performance against other devices with the same configurations.

ORIGINAL - AirMax5 OS is designed completely from the ground up. Unlike others who built their firmware on top of generic firmware, AirMax5 OS is based on Atheros Original drivers. Together with our own innovative functions, AirMax5 OS provides you with the maximum stability and advanced functions that is not available elsewhere.

QUICK - Design to work right out of the box, AirMax5 provides you with everything you need, such as durable and weatherproof housing, double mounting system, Antenna Alignment LED and PoE, you will be able to AirMax5 up and running in no time.


Accessories

Note: All price exlude GST

| | |
| --- | --- |
| - Internal Long Distance Antenna | $ Included |
| - Optional Tilting Mounting Bracket (per unit) | $30+gst |
| - Preconfiguration of Bridge pair (ready to plug-and-go) if required (per unit) | $120+gst |
| - External Long Range High Gain Antenna (per unit) | $250+gst |
| - 1m RF Adapter Leads for High Gain Antenna to AirMax unit (per unit) | $121+gst |
---
Waverider Communications ships Worldwide. Reseller enquiries are welcome.
Waverider
- Worldwide Distributor -
P.O. Box 102, South Melbourne, 3205, Victoria, AUSTRALIA
T: 61-3-96998844, F: 61-3-96905331
For Information:
>> Email Enquiry <<
---